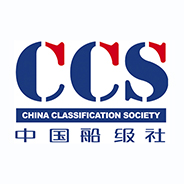 Founded in 1956, China Classification Society (CCS) is headquartered in Beijing and is a full member of the International Association of Classification Societies (IACS).
CCS provides classification services to ships, offshore installations and related industrial products by furnishing world-leading technical rules and standards. CCS also provides statutory surveys, impartial and integral classification, verification, certification and accreditation and other services in accordance with international conventions, regulations and the related rules and regulations of the authorizing flag states or regions. As authorized by the administrations of the flag states or regions, CCS carries out statutory survey and other services as authorized by the administrations. Up to now, CCS has been authorized by 52 major shipping nations or regions in the world including China to perform statutory surveys for the ships flying their flags.
By committing to the mission of "safety, environmental protection and creating value for clients and society" and based on the 120 offices established across the globe, CCS provides services for a range of industry and fields including shipping, shipbuilding, shipping finance and insurance, marine equipment, ocean resources exploitation, ocean scientific research, industrial supervision, system certification, government policy and rule development, energy saving and emission reduction, risk management and evaluation, and is constantly developing new business areas.
By sticking to the policy of "building first-class international classification society with own characteristics and with technology as the foundation and credibility as the cornerstone", CCS improves continuously its image and value through advanced technology and quality service and is widely and highly recognized by the international industry.
Add: Goudsesingel 132, 3011 KD Rotterdam, The Netherlands
Tel: +31(0)104334066
Email: ccslt@ccs-eu.com
Website: https://www.ccs.org.cn